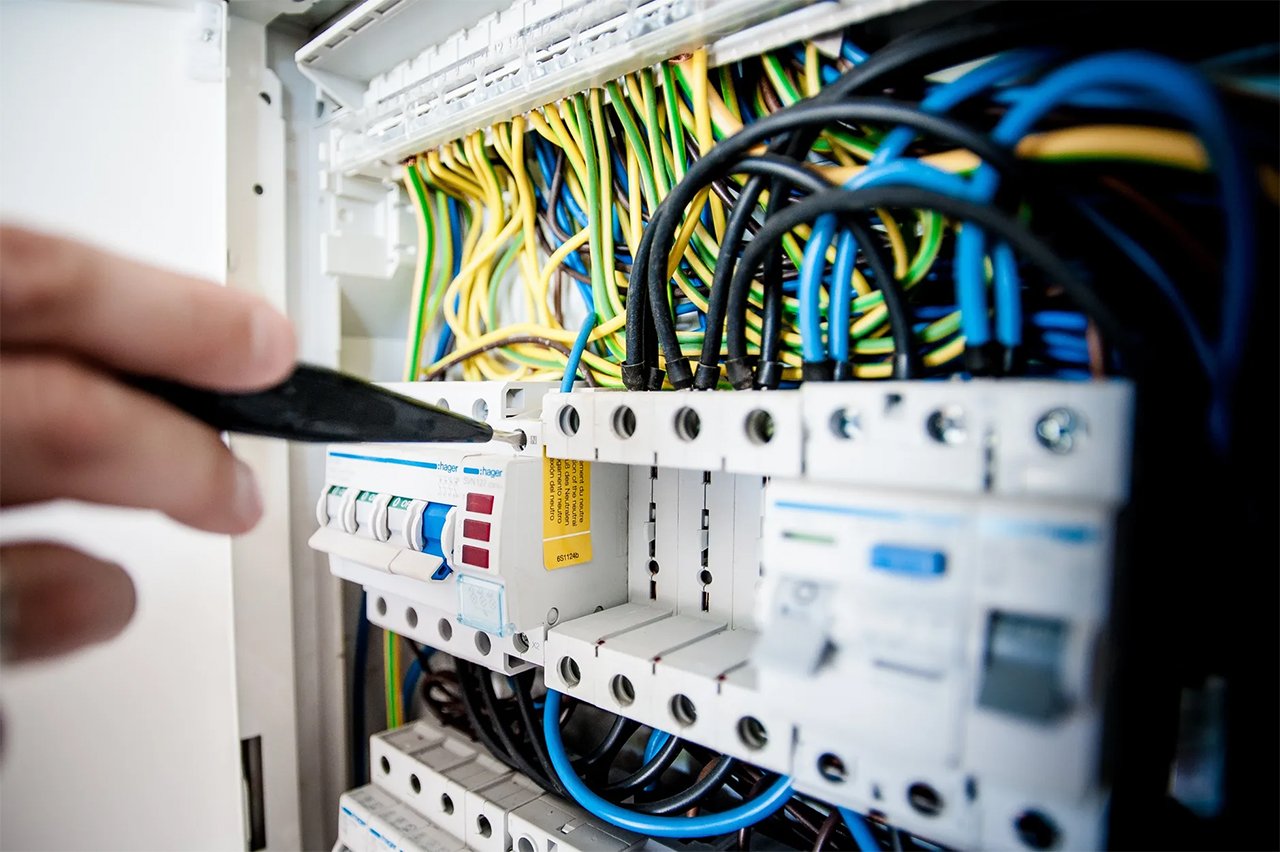 ---
Electrical Installation & Maintenance
Residential
Refurbishments, Wiring and re-wiring Undertaking a refurbishment project can be a challenging and sometimes daunting experience. Various surprises can and will crop up along the way. At Dave Electrical, we take into account the many surprises which will inevitably occur. Wiring a house is a specialist undertaking.
Commercial
Dave Electrical is a services company of choice for many commercial clients. Our work is highly-regarded by our cherished clients. We make every effort to keep them satisfied. Our expert electricians are reliable and trustworthy, and consistently aim to secure the best possible testimonial on each and every assignment.
Certification
Inspection & Testing is a legal requirement in the UK. Beyond regulation, frequent inspection of your electrical systems is a critical factor in day-to-day health and safety and productivity.

At Dave Electricals we assist you in meeting your legal obligations, and also provide periodic reports to provide peace of mind. Dave Electrical do industrial, commercial and domestic property electrical testing required certificate for you insurance, council, HMOs or to comply with The Electricity at Work Regulation.
Call Outs
Manned 24 Hour Electrical Service Call Out With 24 hour electrical service call outs, Dave electrical proudly offer a full 24 hour manned call out service for all electrical services. This means we can provide our clients the peace of mind that Dave electrical is only ever a phone call away from fixing your electrical issue no matter the time of day or month of the year. And we really do mean it when we say no matter the time or day. Dave electrical offers a full 24hr 365 days a year service manned at all times. No matter what the electrical issue, we will strive to help you get the power back up and running no matter the issue, no matter the time.

So keep your business electrics running like clockwork. From more common electrical repairs from light fittings and sockets to electrical issues with commercial properties, air conditioning systems, electrical main supplies and more.

As with everything that we do at Dave electrical, all our electricians are fully trained electrician professionals who are only employed by Dave electrical if they meet our high service quality standards and can provide electrical work to the highest quality. For commercial properties, our 24 hour call out service has become an incredibly popular service for businesses looking for professional and reliable electricians who can get the job done quickly regardless of the time of day.
PAT testing
PAT TESTING MADE SIMPLE
Every business uses electrical appliances of some kind, making Portable Appliance Testing vital. At Direct365, we offer competitive PAT Testing services to keep businesses safe and compliant in the most hassle-free way.

PAT Testing gives you peace of mind by identifying electrical faults and offering advice to make sure your business avoids dangerous accidents. A record of testing will help with any insurance claims and allow you to avoid nasty fines, so make sure you're covered with Dave Electrical Services.

Call 07944437459 now for guidance on your PAT needs and a free, no obligation quote.


WHY CHOOSE DAVE ELECTRICAL FOR PAT TESTING
Dave Electrical are trusted by many UK businesses, from small start-ups to large brands, because our PAT Testing is reliable, convenient and safe. We're your one-stop shop for all safety services – you don't have to search for the best price because we do that for you!

Even though we're cost-friendly, we never compromise on safety. Our professional engineers are fully accredited and will perform a thorough service, with an itemised report and legal certificate to prove your adherence to UK guidelines. We'll test all your appliances in one easy visit, and you even get minor repairs included for free – because customer care is what we're all about.


YOUR LEGAL OBLIGATIONS
The Electricity at Work Regulations are in place to prevent death or personal injury caused by electrics in the workplace. Business owners without a record of safety measures will be liable in the event of an accident and may fail to claim insurance without proof of safe practices.

PAT Testing from Dave Electrical is a safety net of evidence when it comes to legal compliance. We'll provide your legal paperwork at no extra cost, so you can feel at ease about all your electrical appliances
Emergency Lighting
Current legislation requires the "Responsible Person", to consider all aspects of Fire Safety within their premises and included in this requirement is the provision of Emergency Lighting systems. Under the new Regulatory Reform (Fire Safety) Order 2005, which became law on the 1st October 2006, it is now mandatory to undertake a written Fire Risk Assessment and to maintain this as a "living document". i.e. it should be re-assessed at least annually, and updated in the event of any changes made to the premises which should be incorporated into the document. The new Fire Safety Order encompasses and takes the place of all previous fire safety legislation and all aspects of Fire Safety are now together under this order and now non-compliance is dealt with under the authority of criminal law.
Design of Systems
We can assist in the design and costing of suitable emergency lighting systems. On a Power fail the escape routes need to be illuminated sufficiently to allow a safe evacuation from the premises and illuminate sufficiently the route to be followed including any change of direction, change of level, not forgetting stairways and final exit points inside and outside.
It may be possible to convert or replace existing luminaires into dual-purpose fittings. The systems should be capable of being tested for periods without turning off the main lighting system.
The Testing Regime
In-house Weekly: a flick test to make sure the emergency light activates record in the Fire Alarm Log Book 6 Monthly: Engineer visit to undertake a 1hr test and to report faults and certificate findings, and submit quotes for repairs if any. 3 yearly: Engineer visit to undertake a 3hr test and to report faults and certificate findings, and submit quotes for repairs if any.
What is Emergency Lighting?
Emergency lights are self-contained units that are wired into the mains, but have the benefit of battery backup which enables them to remain illuminated should the mains power fail. The batteries can either be carried within the body of the individual light or accessed by lights via an independent wired circuit. The batteries are kept charged via the mains.
What Standards should be observed in Emergency Lighting?
These systems should conform to BS5266 and BS5588
Why do I need such lights?
Because in the event of a power failure you must ensure your building is evacuated safely and quickly and the escape routes and emergency exits need to be illuminated to achieve this.
Do I need to have theses emergency lights maintained?
Yes, a Maintenance Contract is available from us and our Engineer will make 4 visits annually to check your systems out.
I have people on the premises with special needs, do I have to cater for them Under the Disability Discrimination Act 1995 as amended in 2004?
yes you must, it is an issue which should be brought to the attention of our surveyor so that he can advise on alterations necessary, your Fire Strategy must protect their interests also the BBC site may be useful go to:
http://news.bbc.co.uk/1/hi/uk/3139114.stm
This site may assist and answer some of your questions, alternatively, this subject is widely covered on the Internet and can be accessed via a Google search.
CCTV INSTALLATIONS
Dave electrical have CCTV installations engineers and technicians that are fully trained and qualified to provide the best quality workmanship and advice. We'll tailor every installation to meet your security requirements, as well as your budget and business restrictions, and you can be rest assured that all the equipment we supply is of the highest quality.

We offer free quotations for all new analogue and digital CCTV home security installations, and can attend your property on the same day of your phone call.

Our CCTV installers carry everything required to carry out the installation at your home or business, and should you wish, can have your CCTV system fully installed and configured during the same visit.